IndiaBioscience launched the Regional Young Investigators' Meetings (RYIMs) as a platform for scientists and science enthusiasts to connect and collaborate locally. Born out of discussions at the 10th Young Investigators' Meeting in 2018, the first RYIMs in Hyderabad, Kolkata, Jodhpur, and Delhi-NCR were highly successful, addressing local scientific needs through engaging sessions on topics like resource sharing, mentorship, industry partnerships, and diversity in science. To formalise and further expand the RYIMs' impact, IndiaBioscience introduced RYIM grants for 2023 – 2024, awarding seven grants instead of six due to an enthusiastic nationwide response. Or as our executive director aptly puts it, 
This reflects the flexibility and adaptability that define IndiaBioscience.
The first stop in the RYIM journey took us to the bustling state of Uttar Pradesh — and to the nawabi city of Lucknow. RYIM Lucknow found its home at the serene campus of the CSIR-Central Drug Research Institute (CDRI), an institution with roots dating back to 1951, in the early days of independent and vibrant India. The event was organised by a dedicated team consisting of Bhawana George, CSIR-CDRI, Amit Lahiri, CSIR-CDRI, Chandana Basu, Banaras Hindu University, Varanasi,Anjali Bajpai, IIT Kanpur, Jalaj Gupta, Sanjay Gandhi Postgraduate Institute of Medical Sciences (SGPGIMS), Lucknow, and Atul Kumar, Indian Institute of Science Education and Research, Bhopal.
RYIM Lucknow, which took place from September 13 to 15, 2023, focused on the theme ​'Towards building a research community: Connect, collaborate, and accomplish.' In this report, we highlight the key takeaways from the various talks and discussions held during the conference.
Celebrating diversity and inclusivity
The RYIM Lucknow witnessed unprecedented participation from individuals representing diverse research and academic institutes, including central and state universities, and medical colleges. The sheer diversity of the participants and their affiliations set the meeting off to an exhilarating start, aligning perfectly with the RYIM Lucknow theme of ​"connect, collaborate, and accomplish." 
In total, there were 106 participants, with representation from seven states and two union territories. While the majority of participants came from Uttar Pradesh, as organisers, we were thrilled to welcome attendees from far-flung regions like Ladakh, Rajasthan, Gujarat, Odisha, Bihar, and West Bengal, each bringing valuable perspectives and enriching the event.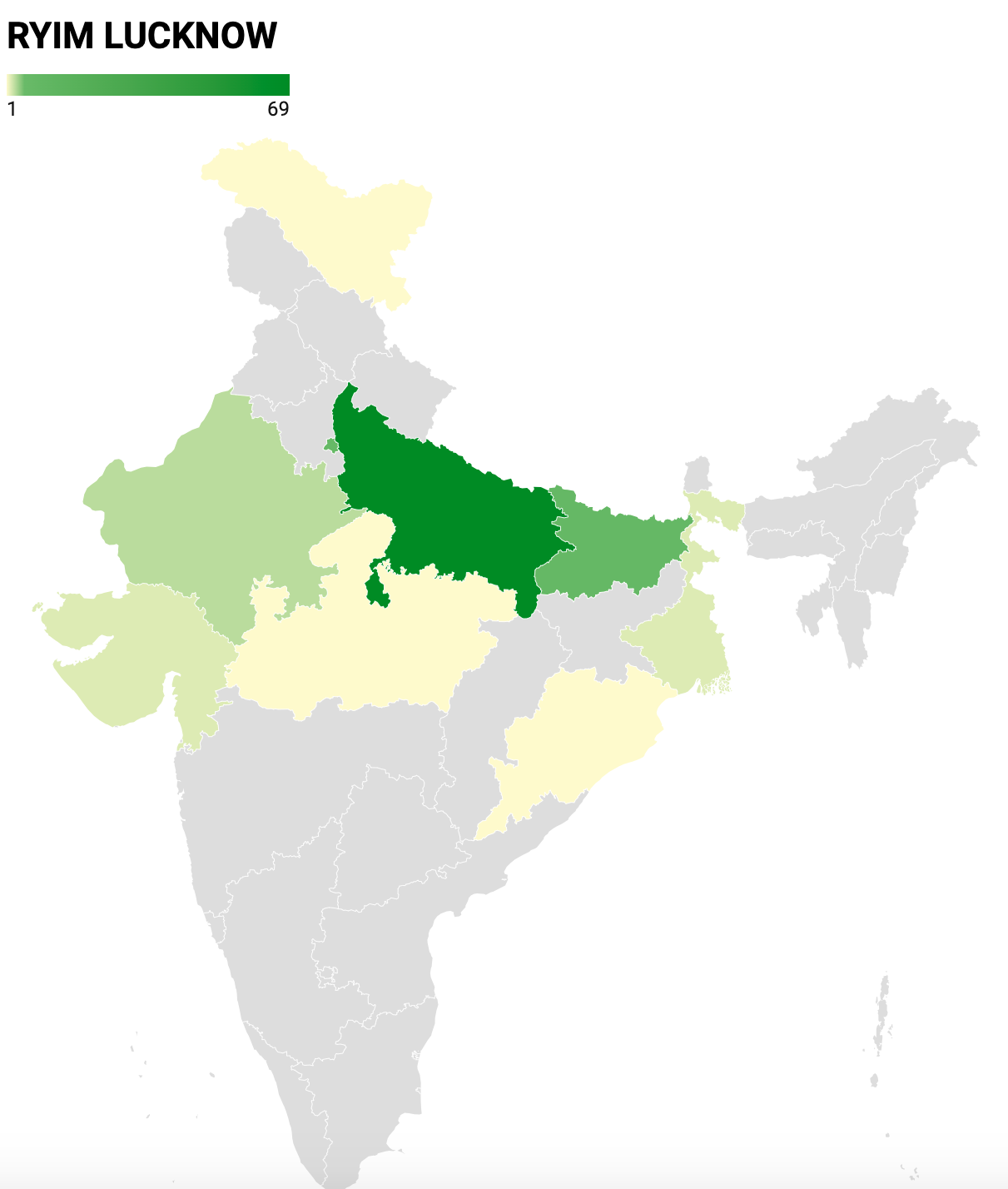 Also, to promote inclusivity, gender parity, and support young parents, RYIM Lucknow offered child-care grants, which included registration waivers and child care facilities for participants. Participants mentioned that child care services provided definitely facilitated their participation.
Insights from key speakers
The event kicked off with a welcome address from Radha Rangarajan, CSIR-CDRI, who appreciated and emphasised the significance of such gatherings, bringing together young scientists, researchers, clinicians, and industry professionals to foster networking and advance scientific research. Karishma Kaushik, IndiaBioscience, also shared her excitement about how Regional YIMs are contributing to the development of local communities and gave a peek into the work IndiaBioscience is doing bridging the gap between science and society.
L.S. Shahidhara, National Centre for Biological Sciences (NCBS), Bangalore, encouraged the participants, especially young investigators, to embark on an academic journey with conviction, determination, belief, and rational thinking, stressing the importance of unbiased mentorship and giving back to the community. He underlined that the concept of ​"Inside the lab, I am a scientist, and outside I am an individual" is fundamentally flawed. The inaugural session featured a spectacular talk by Arun Shukla, IIT Kanpur, who emphasised the importance of team science and collaborations while sharing tips on navigating common stereotypes in Indian academia.
Empowering skills and communication
The day two commenced with skill-building sessions, including an overview of the essentials for successful grant applications presented by Sanjay Batra, CSIR-CDRI, which was enthusiastically received by the participants. Recognising the need for individuals to equip themselves for a prominent presence in the digital space, Smita Jain, Cactus Communications, discussed how to effectively utilise various social media platforms to make an impact with one's research, emphasising the importance of efficient communication.
Sandhya Koushika, Tata Institute of Fundamental Research (TIFR) Mumbai, conveyed her insights by drawing parallels to movie titles like ​'Mission Impossible,' which underscored the unrealistic expectations imposed on scientists, requiring them to work without other responsibilities and fulfil all their obligations. 
She advocated for setting boundaries and discarding the feelings of inadequacy, emphasising her message of self-belief: ​"You are enough."
Additionally, the meeting featured flash talks and poster presentations, enabling young researchers to discuss their findings and engage with fellow participants. There were fourteen flash talks short listed presented by young investigators and forty three poster presentations which provided an opportunity to the young researchers to showcase their research as well as interact with participants. 
The fireside chats
Pertinent topics, such as ​"The art of establishing and maintaining collaboration" and ​"Cross-talk between researchers and clinicians," were thoroughly explored by the stakeholders, which included scientists, pharmacists, and clinicians. 
This panel discussion featured Radha Rangarajan, CSIR-CDRI; L.S. Shahidhara, NCBS, Bangalore; Uday C Ghoshal, SGPGIMS, Lucknow; Satyendra Kumar Singh, King George's Medical University (KGMU), Lucknow; and Jagavelu Kumaravelu, CSIR-CDRI as moderator. These conversations emphasised the importance of involving clinicians in study design, recognising them as more than just sample providers, and promoting clear communication before taking research to the bedside to prevent conflicts down the road.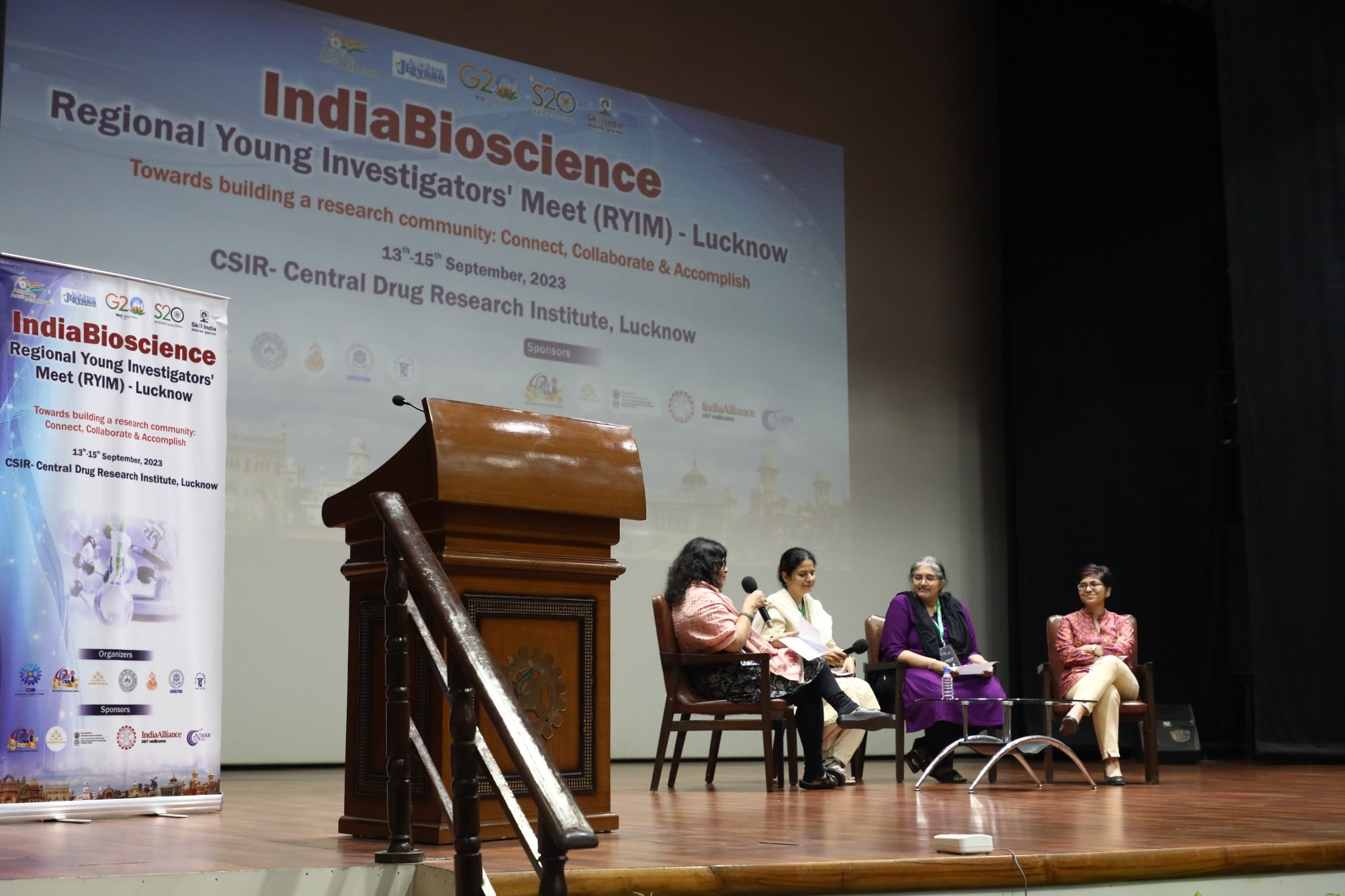 Another panel discussion delved into the ​"Challenges of early career researchers (ECRs) in Indian academia" with an open and sincere approach. This women-led STEM discussion featured Saman Habib and Niti Kumar from CSIR-CDRI, Koushika from TIFR Mumbai moderated by Anindita Bhadra, Indian Institute of Science Education and Research (IISER) Kolkata. They discussed the value of mentorship for newcomers, advising them to identify role models early in their career paths. They also stressed the inseparability of teaching and research and urged participants to view them as complementary tasks rather than a separate load. Break-out sessions provided informal settings for participants to discuss their individual situations with mentors and seek solutions to their challenges at their institutions or universities. Two key takeaways from this session were: First, everyone, including a PhD student, has the power to make a difference or effect change. Second, it's essential to look beyond metrics and discover one's own version(s) of success.
Navigating core facilities
The organisers held a strong belief that one of the pivotal steps in fostering a local community was to create awareness about the core facilities accessible to researchers in the vicinity. Consequently, a dedicated session was conducted to outline the core facilities available at institutions such as Department of Science and Technology — Sophisticated Analytical & Technical Help Institute, BHU; Sophisticated Analytical Instrument Facility, CSIR-CDRI, Lucknow; IIT-Kanpur; Centre of Bio-Medical Research, Lucknow; National Institute of Pharmaceutical Education and Research, Raebareli; King George Medical University, Lucknow, Indian Institute of Science Education and Research, Bhopal and National Botanical Research Institute (CSIR-NBRI), Lucknow. Resource persons were also present to facilitate networking, thereby ensuring the optimal utilisation of available resources in the future.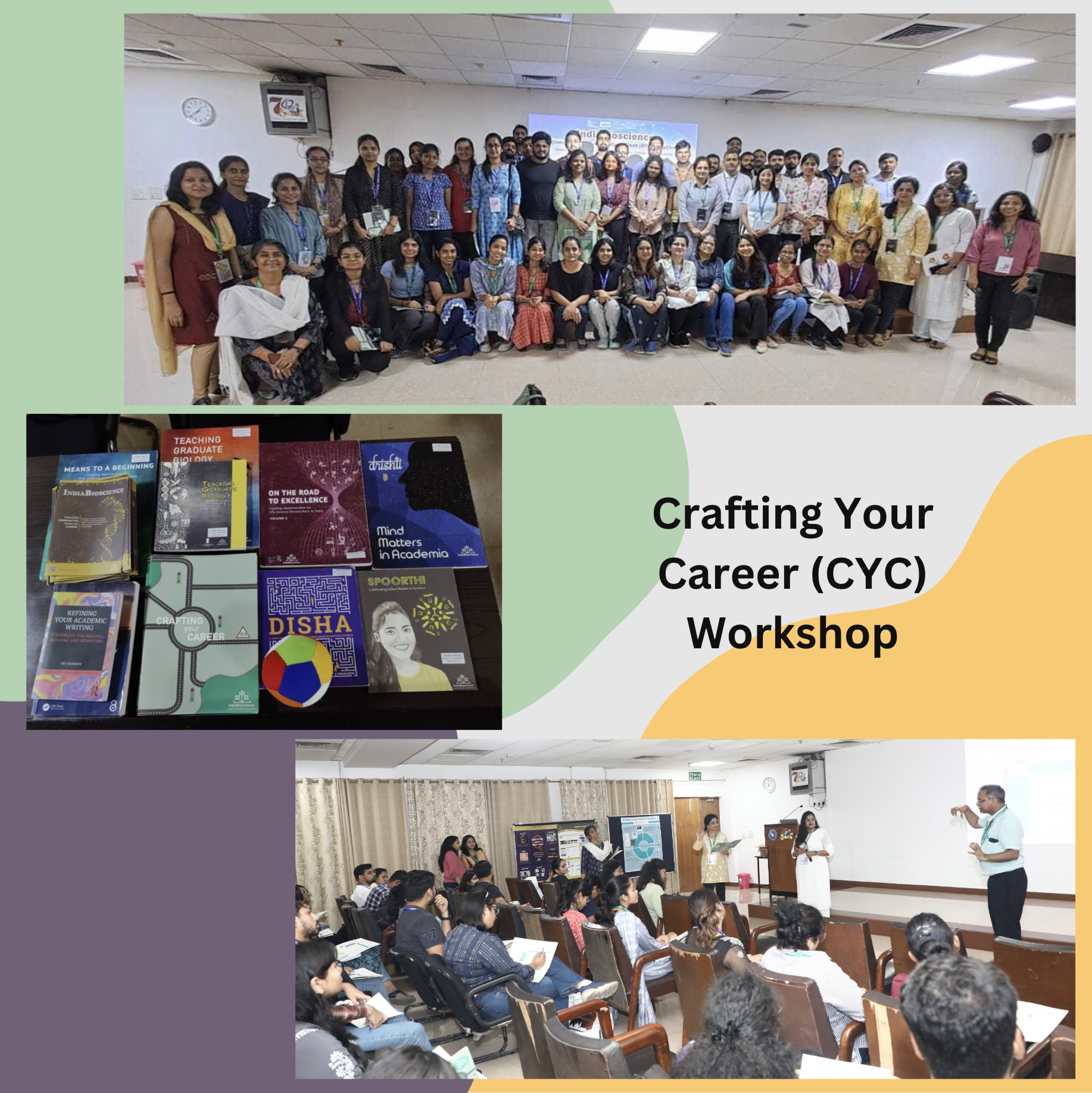 Crafting your career 
The third day featured the ​"Crafting Your Career" workshop, organised by IndiaBioscience. This workshop attracted numerous participants at career crossroads and proved to be an enlightening experience for many, enabling them to identify their unique skill sets and gain insights into what it takes to excel in interviews. The highlight of the workshop was a group activity focused on practicing elevator pitches, which participants greatly enjoyed. We were also fortunate to have Sanjay Mishra, Senior Advisor, Department of Biotechnology (DBT), who conducted a comprehensive session on the numerous fellowships and grants available, shedding light on the various rewarding and alternative career paths within the field of science.
Reflecting on the CYC workshop's format, a participant expressed, 
The interactive nature of CYC made it easy for me to engage. The tasks assigned were thoughtfully crafted and significantly contributed to my self-awareness, enabling me to pinpoint my strengths and weaknesses.
Another attendee shared that the workshop equipped them with an arsenal of tools and strategies eagerly anticipated for implementation in their future pursuits. They expressed confidence in the knowledge and insights gained, recognising their pivotal role in shaping their professional journey.
Science meets art
Science and art are two facets of the same creative force, and embracing this belief, RYIM-Lucknow also curated a sci-art exhibition where a range of pressing topics, including climate change, gender parity, and artificial intelligence, were expressed artistically. Four outstanding illustrations that excelled in content, theme, and depiction were recognised as winners, with two of them sharing the top spot. In keeping with the spirit of creativity, the invited speakers and panelists were honoured with handmade paintings created by DISCC (DEVA International Society for Child Care, Varanasi), an NGO dedicated to supporting specially abled children, as a token of appreciation. We extend our heartfelt gratitude to these talented artists whose creations were genuinely admired by everyone.
The success of RYIM-Lucknow was a collaborative effort, generously supported by funders and sponsors, including IndiaBioscience, DST-Science and Engineering Research Board (SERB), DBT/​Wellcome Trust India Alliance, DST (WISE-KIRAN division) via Gender Advancement for Transforming Institutions (GATI) and industry partners. Gender Advancement for Transforming Institutions (GATI) and CSIR-JIGYASA collaborated as educational partners. The dedicated advisory committee and an army of volunteers played a pivotal role in the event's success. RYIM-Lucknow proved to be a remarkable learning experience for all involved, from organisers to participants.