The National Post Doctoral Symposium (NPDS) is an initiative aimed at providing a platform for networking and collaboration among senior PhD scholars and postdoctoral fellows, also known as early career researchers (ECRs), in the field of Life Sciences from diverse universities and institutes in India. This student-led symposium coordinates a range of events to introduce ECRs to various career prospects, develop skills for professional growth, and offer networking opportunities with experts from different sectors of society. The platform's goal is to support and amplify the voices of ECRs, fostering a diverse, inclusive, and collaborative scientific community.
NPDS is a significant initiative that serves as a unifying platform for ECRs in India. Since its inception in 2016, NPDS has evolved into a vital conduit, fostering collaboration, knowledge exchange, and professional growth among aspiring researchers. Each year, the event is organised by Bangalore Life Science Cluster (BLiSC) ECRs in collaboration with a partner institute in India that hosts the event. After traveling around India for the first five iterations, NPDS was hosted by the Trivedi School of BioSciences, Ashoka University, Sonipat, from October 12 – 14, 2023.
The theme for this year was ​"Science and Society: Vision to Transition". NPDS 2023 brought together speakers from diverse backgrounds to share different perspectives and expertise with the participants. Over three days, the symposium hosted various events, including expert talks, student flash talks, panel discussions, skill development workshops, and interactive sessions to encourage mentor-mentee interactions. The symposium was divided into three sub-themes: (1) Vision for life science research in India, (2) Transitions in academia, and (3) Transition to industry & entrepreneurship. 
Vision for science and society
The symposium commenced with Dhananjay Chaturvedi, a founder member of NPDS currently at CSIR-Centre for Cellular and Molecular Biology (CCMB), who discussed the history of NPDS and the platform's relevance in fostering scientific collaborations. Dhananjay emphasised the impact NPDS has had on the career development of life science researchers, stating, ​"NPDS is a unique platform for ECRs in India, by ECRs."
Following the introduction, K VijayRaghavan, National Centre for Biological Sciences (NCBS) addressed the need for sustainability. He emphasised on the pursuit of personal aspirations without compromising on biodiversity and survival of the future generations. He also highlighted that scientists, leveraging their domain expertise, bear the responsibility to advocate for government policies that prioritise environment friendliness, sustainability and responsible use of technology. 
Karishma Kaushik, IndiaBioscience, then detailed the various ways IndiaBioscience facilitates the interaction between science and society. IndiaBioscience acts as a facilitator for life science research in India by providing in-depth, timely information on funding opportunities (both academic and non-academic), alerts on new job openings, mentorship programs for young principal investigators, and a platform for young scientists to communicate their science to the public.
LS Shashidhara, NCBS, shared thoughts on National Research Foundation for the Indian ecosystem. He discussed how effective governance and science policy can influence the science and technology sector. Lipsa Panda, Elsevier, challenged stereotypes and stressed the importance of inclusion and diversity across various facets of scientific endeavours, including editorial review and boards.
A panel discussion was then conducted on bridging gaps between science and society, bringing together scientists who play unique roles in society. VijayRaghavan, NCBS; Sravanthi Uppaluri, Azim Premji University, APU; Nandita Jayaraj, author of the book Lab Hopping; and Priyamvada Chugh, India Health Foundation, shared insights about their contributions at the science-society intersection. The discussion was skilfully moderated by Sneha Khedkar and Neelanjana Ray.
Transitions in academia
NPDS participants represent diverse career stages. The ​'Transitions in Academia' session was specifically tailored to aid those aspiring to transition into independent faculty roles or academia-related professions.
On day two, Shubha Tole, Tata Institute for Fundamental Research (TIFR) Mumbai, passionately emphasised the self-driven approach in research pursuits. She addressed hurdles arising from mental incapacitation within mentors and the broader scientific infrastructure, highlighting the necessity for a more supportive and understanding system. Tole stressed that research shouldn't be the sole focus of a researcher's work — there needs to be a work-life balance. Following Tole, Somak Raychaudhury, Ashoka University, delivered an engaging talk on interdisciplinary interactions, the joys of discovery, and mentor-mentee relations. Hema Thakur, Cactus Communications, provided an insightful discussion on the use of AI in research for authors, publishers, and the public.
Sravanti Uppaluri, APU, discussed context-based learning, highlighting the importance of understanding one's surroundings to develop fundamental capacities through reading, writing, and interpretations. With her team, she developed iThinkBiology, a dynamic web learning resource designed for undergraduate teaching that is accessible, self-contained, and prioritizes essential capacities over content. On a similar note, Chandana Basu, Banaras Hindu University, shared her journey as a researcher who nurtures young scientific minds through creative art and illustrations. 
Discussions on academic and allied careers would be incomplete without a focus on publishing. Arun Khemariya, Elsevier, discussed the numerous opportunities in publishing houses. Summing up the day, an engaging panel discussion on the practical aspects of starting a lab was led by Mridula Nambiar, Indian Institute of Science Education and Research (IISER) Pune; Shubha Tole, TIFR-Mumbai; Imroze Khan, Ashoka University; and Dhananjay Chaturvedi, CCMB, Hyderabad. The panellists recounted their individual journeys, struggles, and strategies, offering insights on building an effective team, securing funds, and the importance of good mentorship. Faizan Uddin and Shivangi Verma expertly moderated the discussion.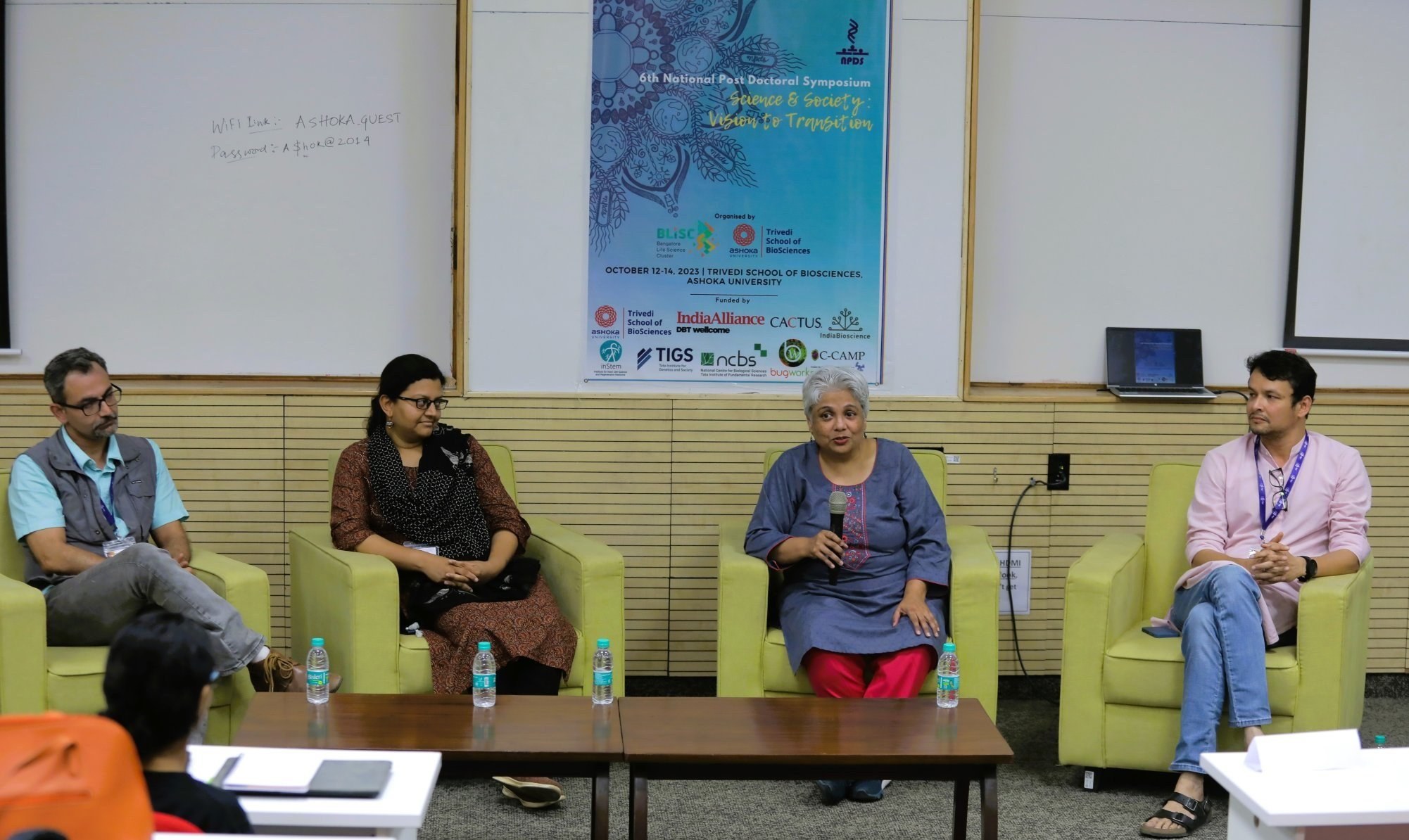 Transition to industry and entrepreneurship
The last day kicked off with an empowering fireside chat featuring Anand Anandkumar, Bugworks, moderated by Aditya Kamat. AnandKumar, with substantial experience in academia, industry, and entrepreneurship, elaborated on the cross-communication among these sectors and how ECRs can actively engage in this dialogue. Drawing examples from his personal journey, he inspired the audience to maintain a continuous vision and consider the real-world applications of research conducted in laboratories every day.
Praveen Vemula, Institute for Stem Cell Science and Regenerative Medicine (inStem), offered a distinct perspective as he reflected on his journey in both spheres- as a scientist and an entrepreneur. He discussed numerous innovations resulting from research in his lab, each with a direct impact on society. Following this, Pradip Nair, Syngene International, Biocon, delved deep into the drug development process, providing insights into industrial job opportunities.
Vishal Bhardwaj, Centre for Cellular and Molecular Platforms (C‑CAMP), shared his perspective on transitioning from academia to industry, specifically focusing on entrepreneurship. He highlighted C‑CAMP's role as an incubator for successful startup ventures. His insights and recommendations regarding various funding opportunities in India were highly beneficial for participants seeking to embark on this career path.
Aditya Parekh, FaFaFo Project, discussed factors to consider when choosing a career path. While advocating for seeking clarity through self-reflection, he acknowledged the difficulty of this process alone. He emphasized the role of discussions with senior professionals and friends in addition to self-reflection.
Concluding the last day, a candid panel discussion on the practical aspects of transitioning brought together the experiences of scientists who have made remarkable transitions to the industry. The panel included Smita Jain, Cactus Communications; Sarah Hyder Iqbal, Foundation of Advancing Science & Technology (FAST India); Debjani Saha, Premas Life Sciences; and Anirban Chakraborty, TCG CREST, Kolkata. They shared their experiences and insights with the audience and moderators Rahul Kumar and Shailya Verma, providing guidance on making the right career decisions.
Workshops
During the symposium, three skill-building workshops were conducted by IndiaBioscience, India Alliance, and Nucleate India. These workshops aimed to better equip participants for their academic and non-academic career pursuits.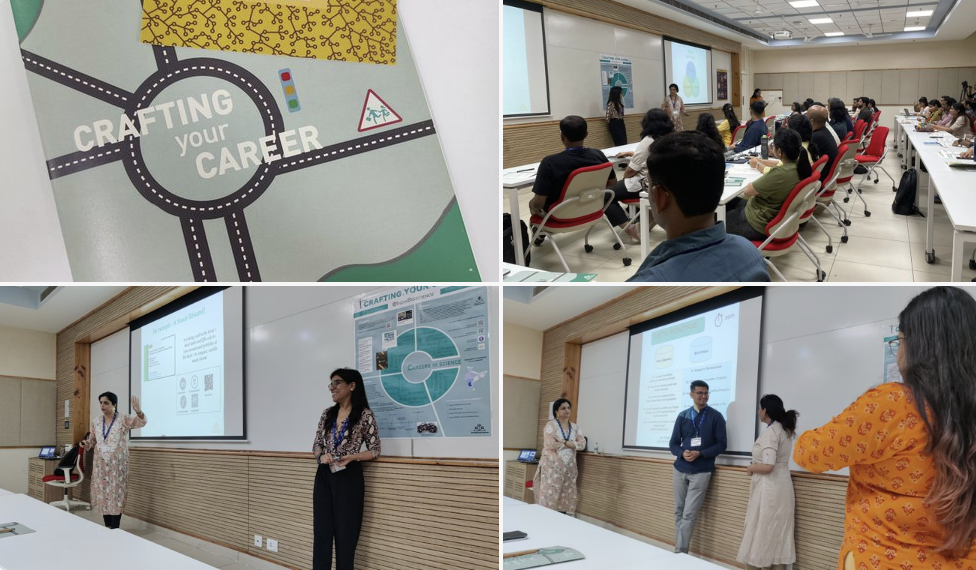 Karishma Kaushik, Ankita Rathore and Arushi Batra from IndiaBioscience led the Crafting Your Career (CYC) workshop. This workshop facilitated the identification of core strengths and weaknesses and guided participants in aligning them with personal interests and priorities to discern a suitable career trajectory. 
Soumya Kanti Ghosh, Grant advisor, India Alliance, conducted a workshop on writing an effective grant proposal. Participants engaged in a grant writing exercise on their research topics, followed by discussions on key elements such as research title, relevance, and structure. Ghosh encouraged applicants to initiate the process a year in advance and highlighted the key aspects that granting agencies look for in proposals.
Heer Joisher, Shree Padma Metur, and Nidhi Khurana from Nucleate India hosted a workshop on the fundamentals of venture creation in Life Sciences. They emphasised the key ingredients for a successful startup and helped participants strategize for a successful launch. This session also touched upon the importance of building a personal brand. 
Participation and accessibility to NPDS
NPDS 2023 hosted 45 participants, including PhD students, post-doctoral fellows, and newly recruited PIs from across the country. The selected participants presented exciting flash talks about their research and engaged in vibrant discussions with the audience. Additionally, 31 speakers from various domains and career stages attended the event to deliver talks, participate in panel discussions, and conduct workshops. The symposium boasted a well-balanced gender ratio and welcomed participants from diverse geographical regions within the country. It is an essential mandate of NPDS to support and provide accessibility to early career researchers in India in every possible manner. With support from funding agencies, all requests for travel support, reimbursements, and medical requirements were thoroughly evaluated and duly considered.
Conclusions and future directions
Participants have expressed the desire for a dedicated poster session in the upcoming NPDS, open to ​'all' attendees interested in showcasing a poster highlighting their research and ideas. These posters will encompass a wide spectrum, ranging from immediate research work to future visions for early career researchers (ECRs) in India. Dhananjay's talk ignited the idea of inviting Indian ECRs based outside the country to participate in NPDS, fostering both national and international collaborations on research, action plans, and strategies to cultivate a conducive research environment. NPDS stands out as a distinctive initiative led by ECRs in India. The organisers gain comprehensive experience in orchestrating an event, working in teams, and executing a national event of this magnitude. PhD students and postdocs in India are encouraged to step forward to organise the next NPDS and carry the baton forward.