The summer sun has been anything but fun for many this year. Brutal temperatures torched records across the U.S. as they peaked globally in July. Relentless heat waves baked the Southwest and rolled into the Midwest and South, occasionally enveloping other regions that are completely unaccustomed to such extremes. Exposure to this kind of heat isn't just uncomfortable; it can kill. As summer heat becomes more intense and indoor air-conditioning becomes a life-support system, the season may cease being a time to enjoy the outdoors—if we don't find new ways to stay safe outside.
"We're seeing a compounding crisis of health risks and climate-related impacts," says Cecilia Sorensen, a Columbia University physician-scientist who studies health problems that emerge from climate change. Recent data from the Centers for Disease Control and Prevention show that hospitals in the region that includes Texas, Arkansas, Louisiana, New Mexico and Oklahoma recorded a major spike in heat-related illness and emergency department visits this summer. In the last week of July alone, more than 170 million Americans were placed under heat alerts, raising concerns that 2023 will set a record-high annual death toll from heat-related illnesses.
"Extreme heat is one of the terrifying aspects of climate change, and it's important that people understand how to protect themselves and others," Sorensen says. With such weather patterns getting longer, more frequent and more intense as the planet warms, Sorensen and other experts told Scientific American what people can do to adapt and prepare for hotter, dangerous summers.
Plan Your Outdoor Activities Deliberately
Simply stepping outside to collect the mail or walk the dog for a few minutes can be a problem in extreme heat, so it's best to steer clear of more strenuous outdoor activities. But if you do go out, schedule anything physically demanding for the cooler hours whenever possible. In Maricopa County, Arizona—the state's most populous county and home to the city of Phoenix—outdoor deaths have driven an increase in heat-associated fatalities in recent years. In 2012 outdoor heat-associated deaths accounted for 58 percent of the total. In 2022 the figure was 80 percent.
Hiking and camping are prime summer vacation staples. But this year places such as national parks have become hotspots for heat exhaustion and heat-related deaths. Since the beginning of June at least seven people have died in national and state parks from heat-related causes, including a 14-year-old boy who collapsed in Big Bend National Park in Texas and an experienced 71-year-old hiker who died in Death Valley National Park, which encompasses regions of California and Nevada. Even if you're a seasoned hiker or accustomed to coping with hot climates, experts and park officers say you shouldn't underestimate the risks of the scalding heat we're dealing with now. "If someone is planning a long trek, preparation is critical to prevent the heat turning from just uncomfortable to actually deadly," says Grant Lipman, an emergency medicine physician and chief medical officer of GOES (which stands for Global Outdoor Emergency Support). The company's mobile app, GOES Health, provides information on managing injuries and other unexpected situations in nature, including serious heat exposure.
Lipman says hikers should pack more water than they anticipate needing and plan for the return journey to take longer than the one to the initial destination. He also endorses the buddy system. "Your friend might notice you're showing symptoms of heat exhaustion before you do," he says.
If the heat begins to feel intolerable or you find yourself running out of water faster than anticipated, turn around and head back to the trailhead. Leave behind your ego, Lipman says—the summit will still be there another day.
Lipman uses an iteration of mountaineer Ed Viesturs's motto: "Going out is optional, but coming back is mandatory," he says. "That's important to remember, especially as extreme heat continues to affect how we approach outdoor activities."
Replenish Fluids and Electrolytes
When temperatures begin to skyrocket, it can be challenging to gauge just how much fluid your body is losing. Consistent fluid intake is essential. It's always better to prevent dehydration rather than have to react to it, so make sure you're hydrated before going outside. You should continue to drink fluids while outdoors and follow the golden rule of hydration: drink when you're thirsty.
Lipman strongly recommends pairing fluids with a salty snack or drink. "When you exercise or sweat, you don't just lose water but also electrolytes like sodium that your body needs to function," he says.
Be Aware of Heat's Indirect Health Effects
Extreme heat on its own may not be the most common cause of heat-related deaths, but it can combine with other factors that amplify risks. For example, high temperatures act as a chemical catalyst and convert existing elements in the air into ozone and other polluting by-products, lowering air quality in the process. "So it might be time to bring out that HEPA [high-efficiency particulate air] filter again," Sorensen says.
Unprotected exposure to the sun's ultraviolet rays can also lead to skin or eye damage, immune system suppression and skin cancer. Experts say a double layer of broad-spectrum sunscreen, along with other protection, such as sunglasses and a wide-brimmed hat, will shield you from the most harmful effects.
Sorensen adds that heat can trigger flare-ups in a surprisingly large range of chronic health conditions, including asthma, hypertension, migraines, rosacea, chronic kidney disease, type 2 diabetes and cardiovascular disease. "We call heat a silent killer because only a small percentage of deaths during heat waves are because of heat stroke," Sorensen says. People with underlying conditions may want to consult a doctor about how extreme heat can specifically affect them. Staying informed and attuned to symptoms is crucial.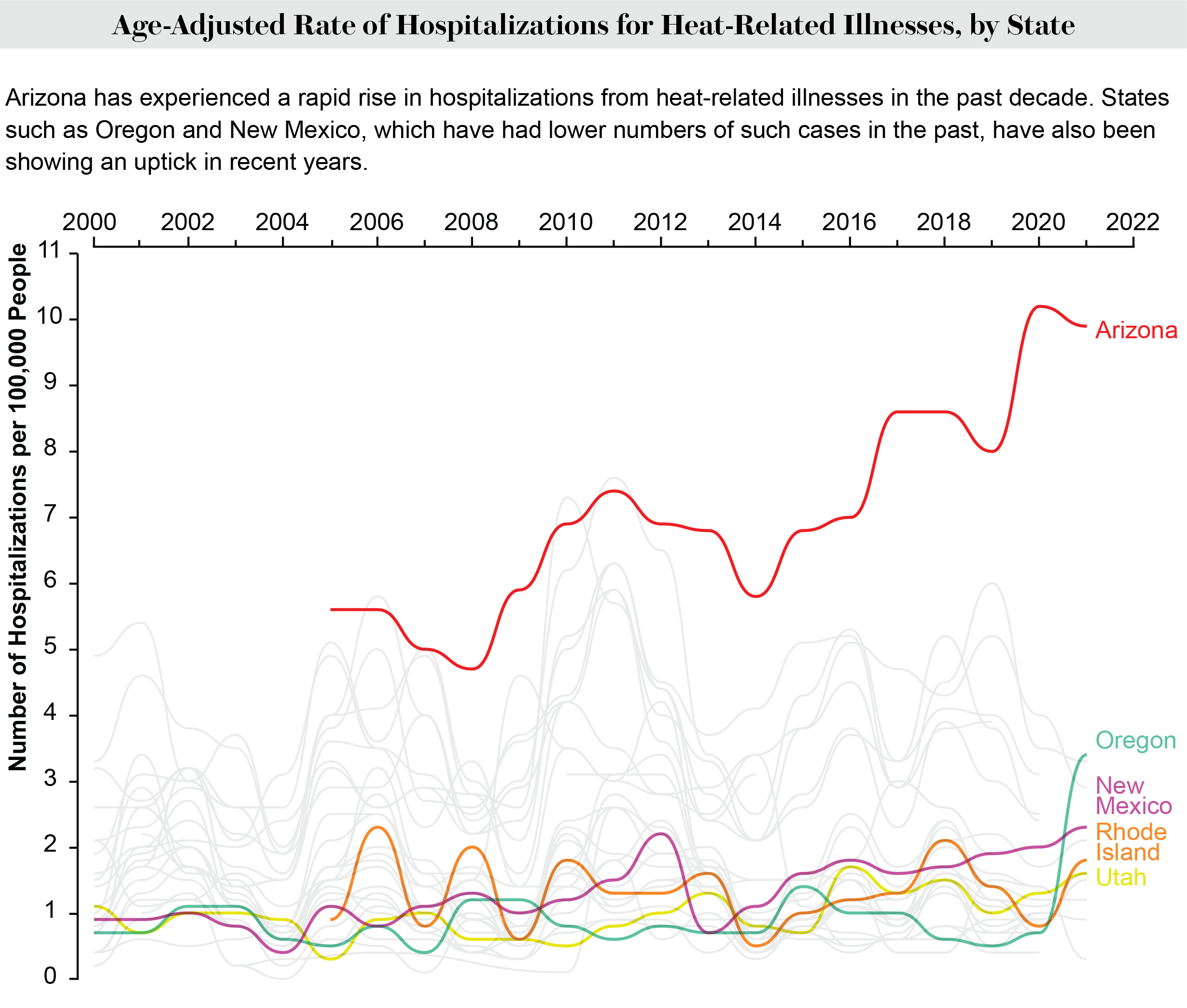 Learn the Signs of Heat-Related Illness
The human body is built to adapt to rising temperatures—but only up to a point. Your body will sweat to prevent overheating. Sweating too much under extreme heat and humidity, however, may cause you to lose the salts and electrolytes that muscles need to function. This leads to cramps, typically located in the legs or stomach, which are often the first sign of heat exhaustion. Then brain function becomes impaired, causing symptoms such as headache, nausea and vomiting. In severe cases, the deadliest stage is heat stroke, which is when people show signs of agitation and delirium and may lose consciousness.
"If you don't get to a hospital or cool down within 30 minutes [of showing symptoms of heat stroke], you're looking at permanent damage," Sorensen says. Organs begin to shut down, and the heart works overtime to circulate blood through the body, which can cause cardiac arrest. Sorensen notes that heat stroke is particularly dangerous because of its unpredictability. Symptoms can develop slowly over several hours or days, but they can also surface after just 10 minutes of extreme heat exposure—without being preceded by heat exhaustion.
Heat tolerance also varies a great deal between individuals, says Matthew Levy, an associate professor of emergency medicine at Johns Hopkins University. "People react differently to the same heat stress based on age, medical conditions and familiarity with high temperature environments, among other factors," he adds. But Levy says there is one important rule that applies to everyone: the longer one's exposure to extreme heat, the greater the risk of developing a related illness.
If you notice signs of heat exhaustion or stroke in yourself or someone nearby, know how to act. Immediately find a shaded or air-conditioned area to rest and cool the body's internal temperature. Other cooling methods include wetting the skin, soaking clothing with cool water and taking a cold shower or bath if possible. "Cold-water immersion is the most effective way of lowering your core body temperature," Levy says.
Keep Your Indoor Spaces Cool
Air-conditioning can create an indoor haven against heat waves. But surges in utility bills and power outages during the summer can make the outdoor heat feel inescapable even when you're inside. Raise the thermostat a few degrees above your desired temperature or spend the day's hottest hours in cooling centers or other air-conditioned public spaces, such as libraries, coffee shops, movie theaters or malls, to help save on electricity costs.
During power outages, close the curtains during the day to keep your home from heating like a greenhouse. Position battery-operated fans where they draw the coolest air, such as on a windowsill, if it's even slightly cooler outside. But fans can backfire and turn a room into a convection oven when indoor temperatures exceed about 95 degrees Fahrenheit. At such levels, blowing hot air on the body makes it gain heat instead of lose it.
Check In on Others
While extreme heat can affect anyone, certain people are more vulnerable. That includes the elderly, young children, people with chronic medical conditions and essential outdoor workers. Temperature extremes can also inflict a psychological toll on people who don't have preexisting mental health conditions.
Knowing which people in your life are more susceptible to heat stress helps you better support them when rising temperatures threaten their health. Conducting wellness checks is especially important for those living alone. Even a phone call asking basic questions such as "What did you have for breakfast?" can indicate if someone is disoriented.
"There are four S's when it comes to heat exposure," Levy says. The first three are checking oneself, shelter and supplies when preparing for extreme heat. And, he explains, "the fourth S is society."
"Heat waves are only going to become more common," Levy says. "We need to think about the steps we can take to build resilience and take care of one another."